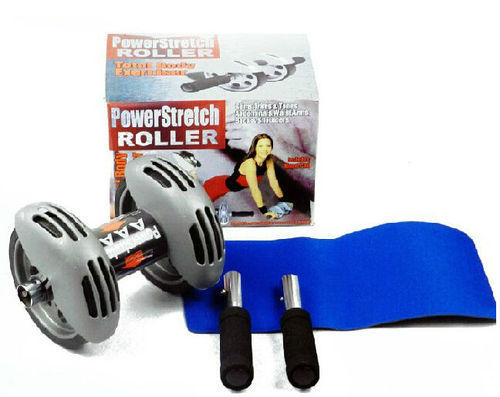 Power Stretch Roller
Product Code : 9506
600 INR
Price And Quantity
Minimum Order Quantity

:

10
Unit of Measure

:

Pieces
Product Description
Works the total body out Just 10 minutes a day burns away body fat and tones your abs Stretching for your back and spine Durable product that lasts long; Can be used at home How to use Power Stretch Roller
1. Hold the Ab Roller with both hands and kneel on the floor.
2. Now place the Ab Roller on the floor in front of you so that you are on all your hands and knees (as in a kneeling push up position). This will be your starting position.
3. The machine is functional from the resistance of the spring. So, when practicing, the wheels should be pushed and moved forward, then the spring is lengthened and produces resistance.
4. The soft pad is used to protect the knees. The arrow direction should face forward, otherwise the resistance of the spring will be reduced.
5. After the machine is equipped properly, it is not easily broken and no need for maintenance.
6. Slowly roll the Ab Roller straight forward, stretching your body into a straight position. Tip: Go down as far as you can without touching the floor with your body. Breathe in during this portion of the movement.
7. After a pause at the stretched position, start pulling yourself back to the starting position as you breathe out. Tip: Go slowly and keep your abs tight at all times.
Contact Us
Plot No-10, Pandav Nagar, Near Mother Dairy, Delhi, Delhi, 110092, India
Phone :+919821604986